Nissan Europe Went Virtual powered by Reality Virtual Studio
For decades, product launches were paired with in-person events that let attendees experience the look and feel of a new release first-hand. After the pandemic, however, things changed. Virtual events have now become the norm – but are they as effective as their in-person counterparts?
With virtual studio and augmented reality (AR) technologies, they can be. In fact, when used for live presentations, virtual studio and AR can offer stunning visuals for remote audiences that will make a virtual launch event even more impressive than the real thing.
One of the industries that prove this is the automotive industry, where many major manufacturers now favor virtual car launch events.
In 2020, for example, Chinese car manufacturer Lynk & Co unveiled their new SUV in a photoreal virtual world with impressive sci-fi visuals and effects that would have been impossible to create for a real-world launch. Chery International, one of the leading automotive innovators in China, also used virtual studio and augmented reality technology for their own brand-new SUV launch event.
Nissan Europe: A Virtual Event Trendsetter
Nissan Europe is another major name becoming an event trendsetter. The company decided to organize a virtual event for the launch of its electric car, ARIYA, which allowed in-house team to present the new car remotely to their dealers in Europe. Thanks to the virtual studio technologies like Reality, presenters could even seamlessly interact with AR objects – enabling them to give illusion of sitting inside the car and also stepping out of it.
DreamWall oversaw the creation of the event's 3D environment, which was inspired by an existing Nissan facility in Japan. The technical setup and graphic design involved a detailed 3D recreation of an ARIYA car model, and required around 100 days to complete.
First, the team integrated the original 3D car into Unreal Engine. They then animated the car's motion for both the platform and Portal Window in order to create the breathtaking movement of the car coming out of the LED wall.
Reality can feed videowalls with high-resolution 3D graphics, and by using camera tracking data, videowalls are converted into a portal that can add another dimension to the virtual environment. Also, 3D elements can venture in and out of the portal window creating an impressive visual feast.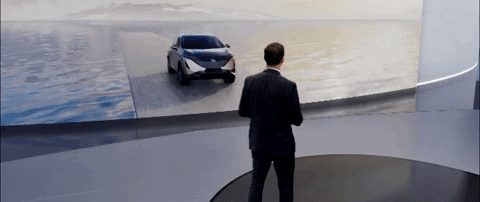 Advanced Augmented Reality and Virtual Set Technology
The virtual set allowed Nissan's team to drive various forms of presentation, such as duplexes via the main screen, video input descriptions, virtual camera movements in the car in a virtual environment, AR screens for viewing content, text integration, interaction with AR objects and more.
Augmented reality also enriched the storytelling by showcasing Nissan's new car in a way that made all the features and design crystal clear and digestible for the audience with the highest quality – all without any need for post-production.
"Combine all the skills and technologies available to reinvent the way you unveil a product. The all-new Nissan ARIYA presentation to European dealers has been the perfect example of adaptation to an unprecedented context thanks to innovation." said Matthieu Rouxel, the Marketing Events & Motor Show Section Manager to Nissan Motor Corporation.
Bringing Storytelling to the Next Level
Nissan's ARIYA launch event also highlighted how it's now possible to render high-quality virtual graphics without sacrificing your design with Reality Virtual Studio. This enabled DreamWall to utilize sophisticated lighting techniques such as global illumination and ambient occlusion, which helped Nissan's launch event to reach a whole new level of realism.
Additionally, by compositing the green screen image in 3D scene, Reality enables real-time realistic reflections and refractions of the physical objects and the people inside the green screen on top of the virtual graphics.
Other design details include the use of volumetric fog and volumetric lightmaps which also improved the general ambience of the set. 4K textures and the use of physical material enhanced the render too, by making even trickier elements like glass and reflections look photoreal.
The specific design, as well as the use of materials, lighting and the mix of screens, provided the set with depth, while cinematography and crane movements made the event feel dynamic.
The virtual event has achieved a very high level of success and summarizes best practices for virtual studio productions for corporate use cases.
About DreamWall
DreamWall is a graphic design and animation studio located in Charleroi (Belgium), brought to life by a partnership between DUPUIS Publishing and RTBF. They have 3 main areas of work such as; animation studio (2D & 3D), TV solutions (TV branding and Virtual sets) and corporate solutions.

About Zero Density
Zero Density is a global leader in real-time graphics and virtual studio technologies for the broadcasting, live events, and esports industries. As the leader in gaming technology in broadcasting, Zero Density offers innovative and user-friendly products that have been adopted by some of the world's largest companies for covering elections, news and major sporting events such as the World Cup and the Olympics. Headquartered in Turkey, the company also has a US office and serves clients such as The Weather Channel, RTL, Fox Sports and Warner Media.